Starline Brass Now Offering 7.65 French Long Brass
08/14/2019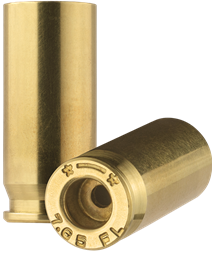 SEDALIA, MO – Starline Brass has added another caliber, the 7.65 French Long to the growing line-up of high-quality brass. Starline's new 7.65 French Long brass is produced with the same demanding quality control standards for which Starline has become known.
The 7.65 French Long was originally developed in the United States as the .30 Pedersen for use in the Pedersen Device, which was a conversion for the 1903 Springfield to quickly turn it into a blowback operated semi-auto rifle with a higher capacity magazine to increase firepower when necessary. With intentions of using the Pedersen device in WWI, production was halted as the war ended before any of the devices saw the battlefield. With the war over and no use for the surplus of Pedersen devices, almost all were ordered to be destroyed.
Years later, the French were looking for a new sidearm and the 1935A pistol fit the bill. The 1935A and 1935S pistols, along with the MAS Model 38 submachine gun were chambered for the .30 Pedersen, now renamed 7.65 Long. This .30 caliber cartridge is quite a bit more powerful than the .32 ACP and is capable of firing projectiles as heavy as 100 grains.
To order Starline's rifle cases please visit a dealer near you or order factory direct online at www.starlinebrass.com.
At Starline, multiple hand and machine inspections ensure cosmetic and dimensional characteristics meet the highest level of exacting standards. All Starline cases are contained between each step of the manufacturing process to maintain superior quality and consistency.
Starline's high-quality rifle case line now includes .350 Legend, .348 Winchester, .375 Winchester, 5.56x45mm, .222 Remington, .30-30 Winchester, .243 Winchester, .223 Remington, 6.5 Grendel, 6 Creedmoor and 6.5 Creedmoor (both available with small and large primer pockets), 300 AAC Blackout, 7mm-08 and .260 Remington.
Starline is a family owned business that prides itself on producing the highest quality brass cases available at the best possible price. For more than 40 years, Starline's unique manufacturing process and commitment from their team of employees has distinguished Starline from the competition. Starline is now using that 40 years of experience to build a complete line of premium rifle cases.
Stay up to date with Starline's new handgun and rifle case releases, exciting promotions and other great content. Follow Starline at:
www.starlinebrass.com
https://www.facebook.com/StarlineBrass/
www.youtube.com/user/StarlineBrass
www.twitter.com/starlinebrass
www.instagram.com/starlinebrass