Starline Voted Top Reloading Brass Brand by Hunters and Shooters
05/18/2018
Sedalia, MO – Starline Brass was recently announced as the top reloading brass case brand by Southwick Associates from their 2017 Hunting & Shooting Participation and Equipment Purchases Report. More than 20,000 hunters and shooters were surveyed to identify the most purchased brands in the market and Starline was selected as the leading brass case brand for reloading.
Starline has provided the highest quality brass for over 40 years. Multiple hand and machine inspections guarantee the cosmetic and dimensional characteristics of each case constantly meet the highest level of exacting standards. All Starline cases are contained between each step of their manufacturing process to maintain superior quality and consistency. Starline has earned their way to the top of reloading case brands by providing the best cases in the market at a great value to their customers.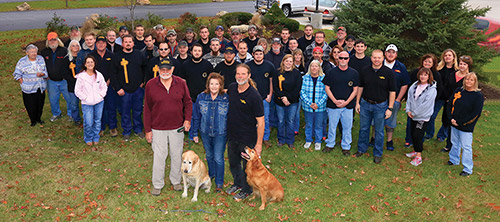 Starline has recently added rifle brass cases to their growing line-up of high quality reloading brass. Hunters, shooters and competitors can now enjoy the same superior quality Starline brass in their rifles as they have in their handguns. Starline's new rifle brass is made with the same strict quality control standards and is available for half the price of comparable quality cases, so reloaders can get more bang for their buck.
Starline's new rifle brass line now includes .224 Valkyrie, 6.5 Creedmoor, 6.5 Grendel, 6.8 SPC, 6mm Creedmoor, .308 Win, .223 Rem/5.56, .243 Win, .300 Blackout, 7.62x39, .260 Rem, 7mm-08, .338 Federal, .358 Win, .450 Bushmaster, and many others.
To purchase Starline's high quality rifle, handgun or custom high-performance cartridge brass today, visit your favorite reloading supplier or order factory direct at www.starlinebrass.com.
Starline is a family owned business that prides itself on producing the highest quality brass cases available at the best possible price. For more than 40 years, Starline's unique manufacturing process and commitment from their team of employees has distinguished Starline from the competition. Starline manufactures a growing line of handgun and rifle cartridge brass cases, 100% made in America.
Stay up to date with Starline's new handgun and rifle case releases, exciting promotions and other great content. Follow Starline at:
www.starlinebrass.com
https://www.facebook.com/StarlineBrass/
www.youtube.com/user/StarlineBrass
www.twitter.com/starlinebrass
www.instagram.com/starlinebrass
Southwick Associates is a market research and economics firm, specializing in the hunting, shooting, sportfishing, and outdoor recreation markets.