Starline Brass Now Offering 300 HAM'R
09/26/2019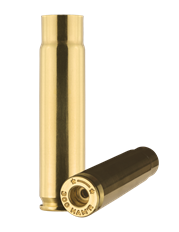 SEDALIA, MO – Starline Brass has added another caliber, the 300 HAM'R® to the growing lineup of high-quality brass. Starline's 300 HAM'R® brass is produced with the same demanding quality control standards for which it has been produced for the original cartridge developer, Wilson Combat®, since 2018.  
Originally named the .30-30 AR, the .300 HAM'R® was developed by Bill Wilson in his search for improved terminal performance in the AR-15 platform while still utilizing the standard 5.56 bolt carrier group. The 300 HAM'R® has a substantial velocity and energy advantage over calibers such as the 300 Blackout and 7.63x39 which gives it 30-30 performance out of the AR-15. Bullets in the 110-150 grain range are optimal for the 300 HAM'R® and deliver excellent accuracy. With proper bullet selection you have a firearm with excellent terminal performance in a low recoiling package that hits well above its weight class. This cartridge has been used extensively for hog and deer hunting and has even been used in Africa for plains game.  Hodgdon CFE BLK powder gives excellent velocity and low pressures in this cartridge.
For more information, including 300 HAM'R® load data, barrels, uppers, firearms and reloading dies, please visit Wilson Combat's website at https://www.wilsoncombat.com/300-hamr/.  HAM'R® is a registered trademark of Wilson Combat®
To order Starline's rifle cases please visit a dealer near you or order factory direct online at www.starlinebrass.com.
At Starline, multiple hand and machine inspections ensure cosmetic and dimensional characteristics meet the highest level of exacting standards. All Starline cases are contained between each step of the manufacturing process to maintain superior quality and consistency.
Starline's high-quality case lineup now includes 7.65 French Long, .350 Legend, .348 Winchester, .375 Winchester, 5.56x45mm, .222 Remington, .30-30 Winchester, .243 Winchester and .223 Remington.
Starline is a family owned business that prides itself on producing the highest quality brass cases available at the best possible price. For more than 40 years, Starline's unique manufacturing process and commitment from their team of employees has distinguished Starline from the competition. Starline is now using that 40 years of experience to build a complete line of premium rifle cases.
Stay up to date with Starline's new handgun and rifle case releases, exciting promotions and other great content. Follow Starline at:
www.starlinebrass.com
https://www.facebook.com/StarlineBrass/ 
www.youtube.com/user/StarlineBrass
www.twitter.com/starlinebrass
www.instagram.com/starlinebrass