Starline Brass Kicks off New Year, New Gear Promotion
01/12/2017
SEDALIA, MO
–
Starline has recently kicked off a "New Year, New Gear" Facebook and online giveaway. The promotion began on January 5, 2017 and will run for 8 weeks, with a fantastic Reloader's Dream prize pack given away every two weeks for the first two months of 2017.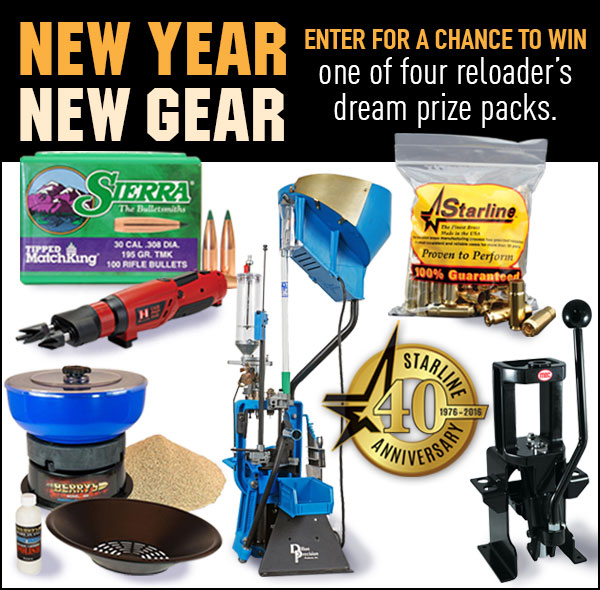 Each of the four prize packs will include 500 Sierra bullets and 500 Starline cases of the winner's choice. The first prize pack features a Hornady Case Prep Duo Tool. The second includes a Berry's Brass Tumbler and Media Separator. The third prize pack will feature a MEC Marksman Metallic Press with Stand, and the final prize pack features a Dillon XL 650 loader with accessories.
Enter to win the first prize pack today. Visit https://www.facebook.com/StarlineBrass/ or www.starlinebrass.com/contest.
People can enter the contest once each day during the promotion period and they'll receive two bonus entries for each person they share the contest with that enters. The contest winners will be randomly selected and notified via email. Starline will ship prize packs for the contests after each one concludes.
Starline is a family owned business that prides itself on producing the highest quality brass cases available. For more than 40 years, Starline's unique manufacturing process and commitment from their team of employees has distinguished Starline from the competition.
Come meet the folks from Starline at SHOT, Booth # N219 Level 3 where you can see their new rifle brass, which they have just begun making. Cases are now available in .308 Win, .358 Win and .444 Marlin. .338 Federal and .243 Win cases will be available soon.
Stay up to date with Starline's new releases, exciting promotions and other great content. Follow Starline at:
https://www.facebook.com/StarlineBrass/
www.youtube.com/user/StarlineBrass