Starline Brass Donates Money To Benefit Missouri Youth at Govenor's Ham Breakfast
08/20/2018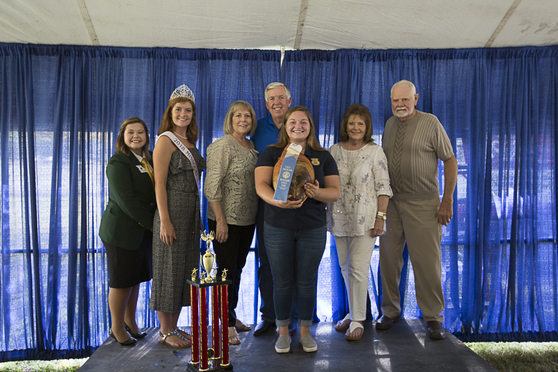 Sedalia, MO -- Bids were called and money was raised for youth Thursday, August 16, at the 66th Governor's Ham Breakfast held in the Director's Tent at the Missouri State Fair. Missouri Govenor Mike Parson addressed the guests, which numbered more than 1,000. The breakfast auction raised a record setting $37,800!

The auction began with the Grand Champion Ham, exhibited by Sarah McCord of California, Mo., The ham was purchased by Starline Brass for a record price of $16,000 and was donated to Missouri 4-H.

The Reserve Grand Champion Ham, exhibited by Deb Cary of California, Mo., was purchased by Starline Brass and donated to Missouri FFA. The $10,000 purchase price also set a record.

The Grand Champion Bacon, exhibited by Country Meat Shop of Moberly, Mo, brought a record price of $9,000 from buyer Starline Brass. Starline Brass donated the bacon to the local Boy Scout Troop that assists with the Cowboy Mounted Shooting event each year at the State Fair.

The funds raised from the auction and breakfast will the support Missouri State Foundation for projects, including youth in agriculture scholarships and fairgrounds improvements.


Starline is a family owned business that prides itself on producing the highest quality brass cases available at the best possible price. For more than 40 years, Starline's unique manufacturing process and commitment from their team of employees has distinguished Starline from the competition. Starline manufactures a growing line of handgun and rifle cartridge brass cases, 100% made in America.
To purchase Starline brass, visit your favorite reloading supplier or order factory direct online at www.starlinebrass.com.
Stay up to date with Starline's new handgun and rifle case releases, exciting promotions and other great content including more chances to win great prizes in the future!


Follow Starline at:
www.starlinebrass.com
www.facebook.com/StarlineBrass/
www.youtube.com/user/StarlineBrass
www.twitter.com/starlinebrass
www.instagram.com/starlinebrass