Reloading for .41 Caliber Handguns: .41 Mag and .41 Special
by Bob Shell, Fri, July 21, 2017
In 1935, the .357 Magnum was introduced as the most powerful revolver round in existence. The .357 Mag is a very versatile round, considering the .38 Special and other shorter rounds that can be fired in it. In 1955, the .44 Magnum was introduced and became "the king of the hill." The .41 Mag was introduced in 1964 in the S&W Model 58. Power-wise, the .41 Magnum falls between the .357 and .44, which puts it in a category of being powerful enough for any self-defense situation, as well as hunting.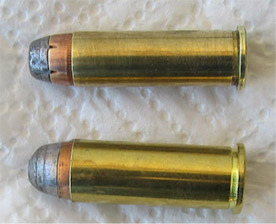 .38 Special (top) and .41 Special (bottom) for comparison.

At first, the .41 Mag was designed as a police load, but it was too powerful for many people to handle. They introduced a milder load that was still powerful but manageable for most folks. Despite its desirable attributes, it never really caught on. Most revolver shooters went with the .357 or .44 Mag.


There is a good selection of components available for the .41 caliber and along with the new .41 Special, case versatility is right there with the .44 Magnum. Like other rounds, there are a few rifles available chambered for the caliber. This increases the velocity by 3-400 FPS, which is significant.


For someone who reloads, the .41 Magnum is a very versatile round. Various factories offer a few loads but choice is limited due to its lack of popularity. There are a few additional rounds that use the .41 number. Most are not common and have become almost obsolete. The .41 Long Colt was moderately popular in the Wild West days but isn't a true .41, in spite of its name. There is also a short version, which is so underpowered that its utility is poor. The .41 rimfire is another very low powered round. There is also a .41 A.E., which is a decent round but very uncommon. For more power, the .414 Super Mag is another option.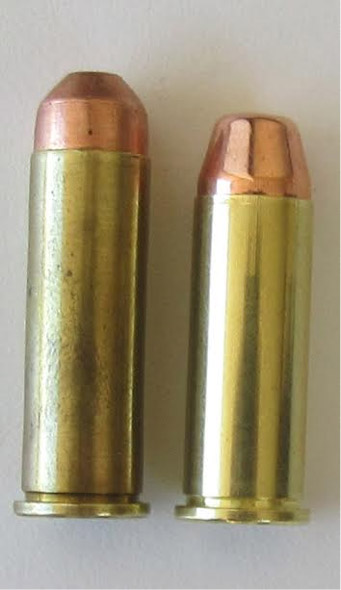 .41 Mag and .41 Special for comparison.

The .41 calibers we'll discuss here are the .41 Magnum and the .41 Special. The .41 Special is a short version of the .41 Mag round, like the .38 Special and the .357 Mag. The .41 Special has essentially the same case length as the .38 and .44 Special rounds. Therefore, it should be easy enough to take a 5-shot .44 Special, like a Charter Arms revolver, and convert it to a .41 Special. A 6-shot .38 should be able to be converted to a 5-shot .41. If you have a big and heavy gun, it might as well be chambered for the .41 Mag, in which case both the Special and Mag rounds can be fired.


The .41 Mag is powerful enough for hunting large game like deer, pigs, and black bear. It might be on the light side for large bear and moose. However, a good load and a properly placed bullet would produce positive results. Normal bullet weights go from 160 to 255 grains. Custom bullets can go as heavy as 280 grains. There are many cast bullets and they are a great choice for almost anything that a .41 can do.


.41 Magnum dies can be used for the .41 Special, but the belling and seating dies will need to be adjusted. Depending on the dies, the seating die might have to be shortened to properly crimp the round. Crimping is very important for consistent ammo, especially with heavy loads and slow burning powder. A weak or nonexistent crimp may enable a bullet to "walk" out of the case, which would tie up the gun.


Starline is the only company that makes .41 Special brass. In a pinch, you can trim .41 Mag brass, but that's not necessary. Since Starline brass is always a high-quality item, you won't go wrong using their brass. As usual, the Starline brass used for the testing above performed perfectly. There was no case loss and some of the cases were loaded several times. I have used Starline brass for years by the thousands. I can always depend on the quality, and am never disappointed. I fired quite a few rounds during this test and did not have any case failures of any kind, which is generally the case with Starline brass.


There are various ways to measure brass quality. One way is case forming. Case forming puts a strain on the cases that conventional reloading techniques don't do. Starline consistently has the least amount of failures, which shows me the quality of their product.


41 Special Ballistics and Reloading Data
Below are some testing results for the .41 Special. I included a couple of rifle loads for comparison. As in most instances, the rifle loads are faster than the handgun. I listed all the loads tested, including some that were not so good to help someone avoid those loads.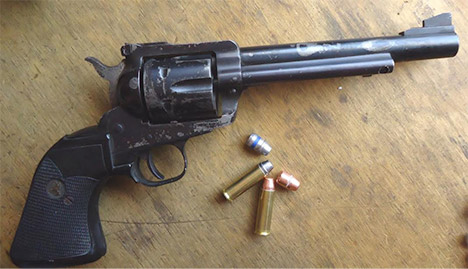 Ruger Blackhawk used in testing. A great gun but heavy for a .41 special.

The loads using the new WW-572 need to be brought up, as well as some of the Unique loads. Some informal target shooting shows that most of those bullets shoot well and are accurate. There are not a lot of lightweight bullets for the .41 caliber, but Sierra makes a nice 170-grain HP that I have used on various occasions with good results. Sierra also makes a 210 grain .41 caliber bullet, but I consider that more suitable for a .41 Mag for hunting.
41 Special Load Data
| | | | |
| --- | --- | --- | --- |
| LOAD | BULLET           |   VELOCITY     |    COMMENT |
| 8 grs WW 572 | 134 gr HJ HP 41 S   | 970.58 | mild high ES |
| 12 grs Unique | 134 gr HP 41 S | 1542.55 | nice load |
| 12 grs Unique | 135 gr copper HP | 1549.8 | consistent |
| 10 grs 231 | 135 gr copper HP   | 1338.5 | decent |
| 8 grs Unique | 155 HM HP 41 S     | 995.5 | mild high ES |
| 11 grs Unique | 155 HM HP 41 S     | 1367.09 | consistent |
| 9 grs WW-572 | 155 HM HP 41 S     | 1014 | nice load |
| 9 grs WW-572 | 170 gr Sierra HP   | 1052.3 | nice load |
| 10 grs Unique | 170 gr Sierra HP     | 1246.9 | consistent |
| 6 grs Unique | 180 gr HM HP 41 S | 501 | way too light |
| 6 grs Unique | 180 gr swaged HB 41 S | 642.7 | very mild |
| 7 grs WW 572                     | 180 gr swaged HB 41 S   | 789.45 | OK |
| 9 grs Unique | 180 gr swaged HP 41 S     | 1069 | Ok |
| 10 grs Unique | 215 gr cast SWC     | 1232 | *pistol - good load |
| 10 grs Unique | 215 gr cast SWC | 1427 | *rifle - nice load   |
| 6 grs Unique | 215 gr cast SWC 41 S   | 839.75 | consistent   |
| 6 grs Red | 215 gr cast (new powder) | 772.3 | nice load |
My thought is there should be a lightweight gun designed around the .41 Special round. A good choice would be a Charter Arms Bulldog, a 5-shot currently chambered in .44 Special. I have made some lightweight bullets, but if this catches on maybe someone will make a nice lightweight gun and more light-weight bullets to match. There are a couple of factory light-weight bullets, such as the 170 gr HP made by Sierra.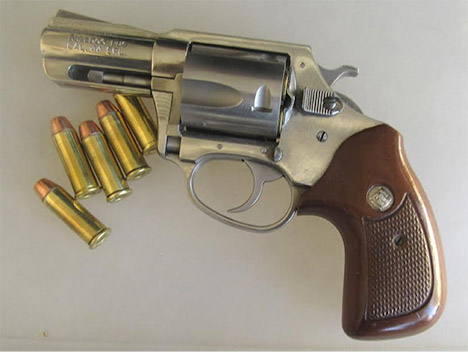 A Charter Arms revolver like this Bulldog model would make a nice .41 Special light carry gun.

If the idea of a .41 Special light-weight revolver catches on, the selection of lighter-weight bullets should increase. There is a small selection of bullets for the .41, but for the most part, they are on the heavy side. I am not interested in getting the last foot second. If that was my objective, I would use the .41 Mag case.

I did try the 215-grain cast with 6 grains of Unique. It is accurate and pleasant to shoot. At 800 FPS, it isn't a weak load either. I am not interested in making this round a junior .41 Mag. With full loads, it would be about 100 to 150 FPS slower than a .41 Mag with a comparable load. In a full-size gun, I don't see the point. And if it was shot in a light-weight gun, recoil would be excessive. But the idea of a .41 Special light-weight revolver could be the ticket.


DISCLAIMER: All reloading data in this article is for informational purposes only. Starline Brass and the author accept no responsibility for use of the data in this article.
Back to Article Listings