Notice: Your web browser ( Unknown 0) is out of date.
Update your browser for more security, speed and the best experience on this site.

Download:

Download 6.5 Guide
by Starline Brass & Gavin Gear, Wed, October 31, 2018
The Complete 6.5 Creedmoor Starline Cartridge Guide offers a comprehensive look at the popular cartridge including:
Reloading & Ballistics
Load Data and Development
Hunting & More!
This guide is the culmination of a partnership between Starline Brass and Gavin Gear of UltimateReloader.com with contributions by Hornady and Hodgdon.
Download or print the 6.5 Creedmoor Starline Cartridge Guide today!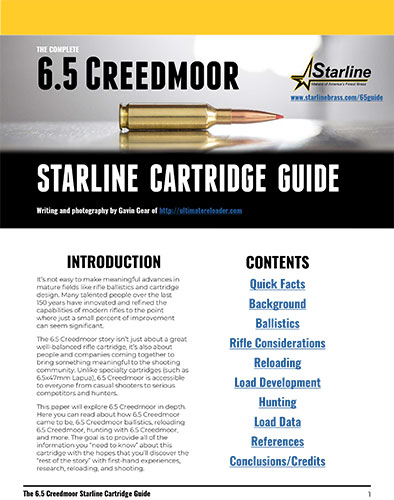 Back to Article Listings