Notice: Your web browser ( Unknown 0) is out of date.
Update your browser for more security, speed and the best experience on this site.

Download: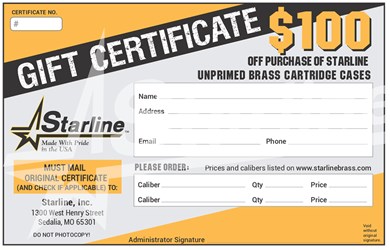 Starline gift certificates make a great gift for the reloader in your life.  Gift certificate(s) will be mailed to the Ship To address.  This gift certificate must be filled out and mailed back to Starline Brass for redemption.  Gift Certificates are available in $25, $50 and $100 values.  Starline Brass gift certificates are always the right caliber, and always appreciated by your favorite reloader.