Starline CEO named to Cowboy Mounted Shooting Association Hall of Fame
11/13/2014
SEDALIA, MO - From the earliest days of Cowboy Mounted Shooting, Starline Brass has been a great supporter of the Cowboy Mounted Shooting Association. Barbara Hayden, the company's CEO and President realized early on that Cowboy Mounted Shooting would be a great vehicle for the enhancement of the shooting sports industry. CMSA's core values as a family based sport would project an image that would be a benefit in the fight to retain gun ownership and help protect our second amendment rights.
Like CMSA, Starline Brass is a family based business. Barbara's husband Robert and their son Robert Junior are the owners and corporate officers that form the foundation for Starline Brass. Starline Brass is recognized and respected as a premier manufacturer of quality products for the shooting sports industry.
Starline also provides the brass cartridge casings to CMSA Certified blank ammunition manufacturers. Starline's quality, expertise and cooperation has made it possible for CMSA ammo providers to produce the world's finest and most reliable blank mounted shooting ammunition.
CMSA is pleased to have Starline Brass and the Hayden family as a significant partner in their sport and is honored to have recently inducted Barbara Hayden and Starline Brass into the CMSA Hall of Fame.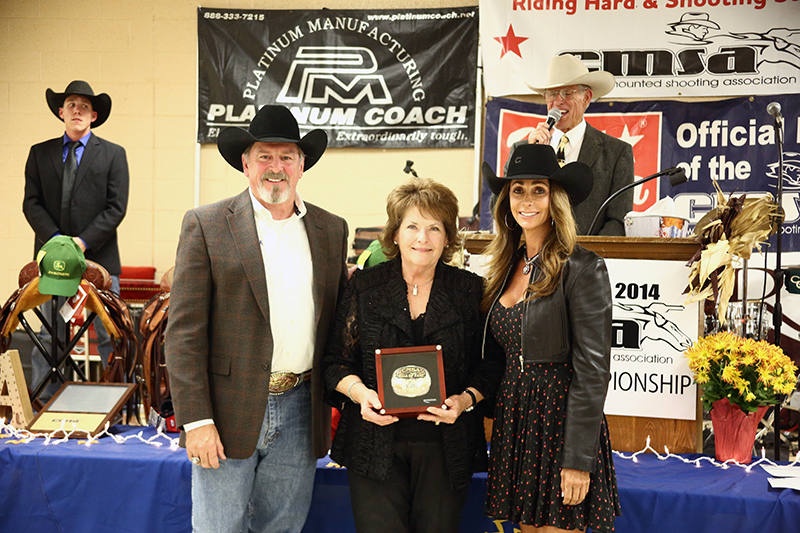 (L-R Back row): TJ Romano – Official CMSA Announcer, Jim Rodgers – Chairman of CMSA Board.
(Front row): Steve Miller – Montana Silversmiths, Barbara Hayden – CEO of Starline Brass, Annie Bianco – CMSA National Spokesperson.
Starline is a family owned business that prides itself on producing the highest quality brass cases available. For more than 30 years, Starline's unique manufacturing process and commitment to their team of employees has distinguished Starline from the competition.