Starline Brass Adds 32 Auto
10/05/2015
SEDALIA, MO – Starline Brass has recently introduced cartridge cases for the .32 Auto. The .32 Auto has been chambered in numerous handguns throughout the world and adopted by many government agencies. After its introduction in 1899, the .32 Auto (.32 ACP) was chambered in several popular blowback automatic pistols, including the Colt Model 1903, the Savage Model 1907, and the Browning Model 1910.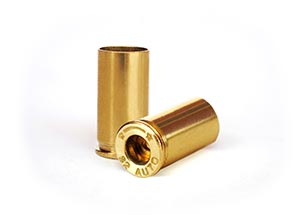 To view the .32 Auto and order Factory Direct online, visit www.starlinebrass.com/32Auto.
The .32 Auto, also known as the .32 ACP, and as the 7.65mm Browning in Europe, was designed in the late 1800's for use in small frame semi-auto pistols. Its semi-rimmed design also allowed it to be used in some revolvers. Many manufacturers offer pistols in this light and compact designed caliber, which works well for concealed carry. Manufacturers currently chambering guns in .32 Auto include Kel-Tec, North American Arms, Century Arms, Taurus, Beretta and Bersa. While this cartridge has historically been chambered in these smaller pocket pistols, it has recently begun gaining popularity as a target round for Bullseye competition in the Pardini pistol.
Starline has added the .32 Auto as a part of their ongoing effort to meet the growing demand for their superior reloading products. The .32 Auto is the latest addition to their expanding product line, which now exceeds 80 calibers. This match quality brass will be equally suited in defense loads in your daily carry gun or with target loads in your target pistol. Starline's new .32 Auto cartridge brass is available in 500 and 1,000 piece quantities.
Starline is a family owned business that prides itself on producing the highest quality brass cases available. For more than 30 years, Starline's unique manufacturing process and commitment to their team of employees has distinguished Starline from the competition. To see Starline's full product line and order factory direct online, visit www.starlinebrass.com/32.
Contacts: Robert Hayden Jr., (800) 280-6660, rhayden@starlinebrass.com
Tim Noland, Callis Integrated Marketing, (660) 826-2822, tnoland@ecallis.com